The dress code of the nation is based on modern-day culture and clothing. The nation does not have a specific mode of dressing that has been used for centuries but wears modest.
People are expected to wear suits during formal meetings, and some other tech organizations will need formal attire will first be expected when reporting to work at first. The general outfits in the country can therefore be categorized as formal, semi-formal, casual, smart casual, and business casual.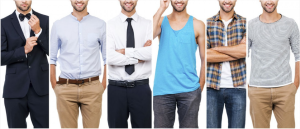 Freedom is practiced in the country, including what one can wear, making it difficult to explain the exact dress code people wear since almost everyone in the country tends to wear modesty. Both genders can casually wear trousers, jeans, casual pants, blazers, shorts, shirts, and T-shirts. Women can also wear suits at work just like men. When women wear shorts, they will need to wear stockings underneath accompanied by high-heeled sandals. The suits for both genders are generally dark, with either a shirt for men or a blouse for women with a matching colour tie or bowtie. The traditional clothing in the nation has been evolving with time, and the people in the nation will wear the evolved clothing, which acts as influential clothes not only to the nation but also to people from other nations who tend to follow the western culture of dressing.