Erawan Falls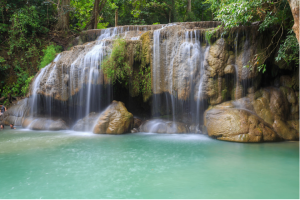 The Erawan Falls are the most popular tourist destination in the Erawan National Park in Western Thailand, and they are located just a short distance from Kanchanaburi. The Hindu mythological figure known as Erawan, a white elephant with three heads, inspired the naming of this waterfall. It is thought that the seven-tiered falls are reminiscent of the erawan (Peleggi ,1996). The area around the falls is home to a large population of macaques, in addition to the rare water monitor lizard. The park welcomes guests 365 days a year and has its highest levels of activity on weekend days.
Khao Yai National Park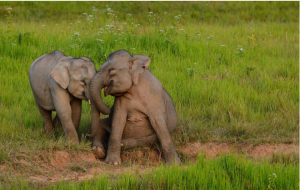 The Nakhon Ratchasima Province is home to the Khao Yai National Park, which is Thailand's third-largest park overall and the second-largest park in the country's eastern region (Peleggi ,1996). In addition to being home to a diverse collection of animal species, such as Asian elephants and black bears, the park has lookout towers, hiking routes, hotels, cabins, and camping areas. Dinosaur footprints are also visible, giving tourists the opportunity to discover something new around every corner.
Mu Ko Ang Thong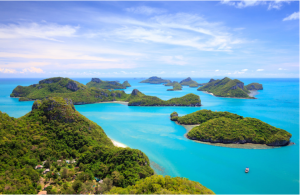 A well-known national park in the Gulf of Thailand may be found in Ang Thong, which literally translates to "Bowl of Gold." The park's headquarters are located on Ko Wua Talap, which is the largest of the park's 42 islands (Peleggi ,1996). Because the islands are so near to one another, island hopping is a breeze. There, vacationers may stay in charming bungalows and take in breathtaking vistas of the odd rock formations and islands that are located in the area. One of the most popular things to do on a day trip from Ko Samui is to go to this island and swim amid the shallow coral gardens while exploring the white sand beaches.
Khao Sok National Park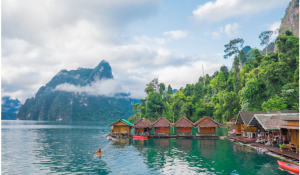 People who wish to completely immerse themselves in the natural splendor of Thailand should make it a point to go to Kao Sok National Park, which is home to the biggest tract of unspoiled forest in all of Thailand (Peleggi, 1996). The park is divided into two sections by a spectacular mountain range composed of limestone, and both sections include relics of an old rainforest. This gorgeous national park is home to more than five percent of the world's animal species, and it also has a network of dirt paths, towering waterfalls, and a stunning lake.
Phanom Rung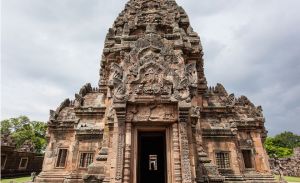 The Hindu temple of Phanom Rung is located in the northeastern part of Thailand on top of a dormant volcano. It is well acclaimed for its remarkable construction. This temple sanctuary was constructed by people of the Khmer civilisation sometime between the 10th and 13th centuries and may be found close to the town of Nang Rong (Peleggi, 1996). Phanom Rung, which is made of sandstone and laterite, was designed to resemble Mount Kailash, the holy mountain that is said to be Shiva's abode.