Denmark is a Scandinavian country located in Northern Europe, known for its rich cultural heritage, picturesque landscapes, and innovative design. The country offers a wide range of tourism sites for visitors to explore, including historic landmarks, natural wonders, and modern architectural marvels.
Tivoli Gardens
One of the most famous tourist attractions in Denmark is the Tivoli Gardens, located in Copenhagen. Tivoli Gardens is a historic amusement park that was founded in 1843 and is still in operation today. The park features a wide range of attractions, including roller coasters, musical performances, and cultural exhibitions. The park's cultural significance lies in its preservation of Danish traditions and its celebration of Danish culture. Tivoli Gardens is an excellent representation of Denmark's modern and historic cultural heritage, making it a must-visit destination for tourists.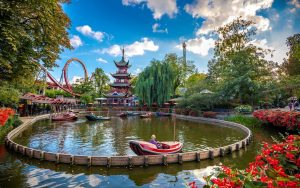 Kronborg Castle
Another popular tourism site in Denmark is the Kronborg Castle, located in Helsingør. The castle was built in the 16th century and is known for its impressive architecture and historical significance. The castle was used as a setting for William Shakespeare's play, "Hamlet," and has become a symbol of Denmark's literary heritage. The castle's strategic location also played a crucial role in Danish history, serving as a military stronghold during the Renaissance era. Today, the castle is a popular tourist attraction, attracting visitors from all over the world.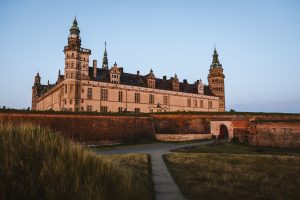 Mols Bjerge National Park
Denmark is also known for its beautiful natural landscapes, and one of the most popular natural attractions is the Mols Bjerge National Park. The park is located in Jutland and covers an area of 180 km². The park features a variety of natural wonders, including rolling hills, heathlands, and coastal cliffs. Visitors can explore the park on foot, by bike, or by car, and can enjoy activities such as hiking, birdwatching, and beachcombing. The park's natural beauty and ecological significance make it a popular destination for nature lovers and outdoor enthusiasts.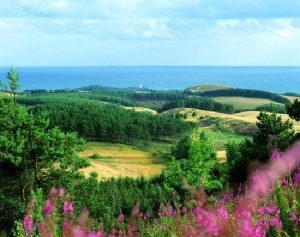 In conclusion, Denmark offers a diverse range of tourism sites that showcase the country's cultural, historical, and natural heritage. From historic landmarks such as Tivoli Gardens and Kronborg Castle to natural wonders like Mols Bjerge National Park, there is something for everyone in Denmark. Tourists can enjoy the rich cultural heritage, breathtaking natural beauty, and modern design aesthetic that Denmark has to offer.