Greece is renowned for both its natural beauty and its interesting history. It is home to some of the most significant historical sites in the world, in addition to having about 6,000 islands. Greece is one of the most popular tourist destinations in Europe due to its abundance of historical and ancient monuments, breathtaking cliffs that drop precipitously into azure waters, sandy and pebble beaches, and mild Mediterranean climate.
Below are some of the most visited places in Greece:
 Acropolis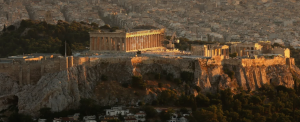 The Acropolis is a rocky hill that rises in the center of contemporary Athens. It is capped by three beautiful temples that date back to the 5th century BC. The Acropolis is regarded as the emblem of not just Athens and Greece, but also of Western civilisation. The Parthenon, which was originally composed of 58 colonnaded a roof and ornamented with extravagant pediments and a frieze, is by far the most well-known and recognizable of these structures.
Acropolis Museum
The Acropolis Museum is often ranked as one of the top tourist attractions in all of Athens. Built expressly for the purpose of displaying ancient discoveries from the Acropolis, this ultra-modern glass and steel edifice was designed by the Swiss architect Bernard Tschumi. It has exhibition areas that are bright and spacious
Santorini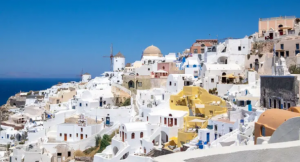 Stunning The Greek island of Santorini is known for having the most breathtaking scenery. It is most famous for the cliff-top villages of Fira and Oia, which are located on the island's western coast. These cities give the impression that they are hanging over a caldera that is filled with a deep blue sea. Both Fira and Oia are known for their status as romantic places and are frequently chosen for weddings and honeymoons. The typical framed by white cubic structures that characterize the Cycladic architecture can be found in both places. Many of these buildings have been transformed into luxury accommodation with infinity pools.
Zákynthos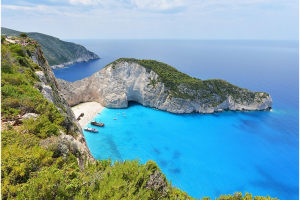 Zákynthos, also known as Zante, is another one of Greece's most popular tourist destinations due to the breathtaking landscape that can be seen both above and below the water surrounding the island.
Pebble and sand beaches, of which Shipwreck Beach is the most well-known, and breathtaking sea caves, such as the Blue Caves, can be found just off the island's northernmost point. This physically interesting island is home to some of the world's most beautiful beaches. A mystical light emanates from inside the cave as a result of the sparkling water reflecting the hue of the blue sky on the cave walls. The Blue Caves are only one of many other water-related attractions that can be found all throughout this island. Snorkeling and scuba diving are other very popular activities here.