Injera
It is a sourdough flatbread, which is made from teff flour, a tiny grain native to Ethiopia and Eritrea. It is used as a utensil to scoop up other foods, such as stews and salads.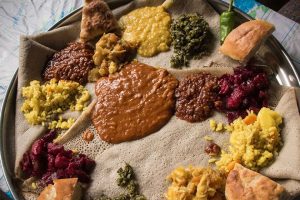 https://www.citymarket.coop/calendar/2018-03-29/taste-eritrea-how-make-injera-and-yemisir-wat
Zigni
It is a traditional meat dish that is usually made with beef, but sometimes goat, and is cooked in a spicy sauce with onions, tomatoes, and berbere, a fiery Ethiopian spice blend.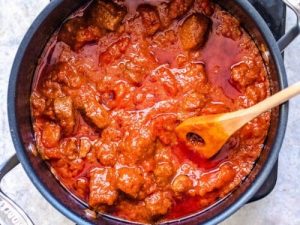 Tibs
It is a dish made from sautéed meat, typically beef or lamb, with onions, peppers, and spices. It is usually served with injera.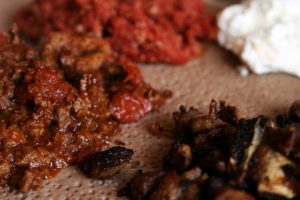 https://www.citymarket.coop/calendar/2016-04-05/tastes-eritrea-yebeg-tibs-ingudai-tibs
Shiro
It is a traditional Eritrean and Ethiopian stew made from ground chickpeas, onions, garlic, and spices, such as berbere or paprika.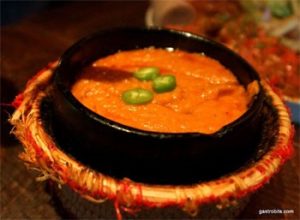 https://shabait.com/2017/06/10/rating-shiro/
Kitfo
It is a raw minced beef dish, similar to steak tartare, that is mixed with spices and served with injera.

https://www.globeholidays.net/Africa/Eritrea/Asmara/Eritrea_Kitfo1.htm
All of these foods are widely available in Eritrea and can be found in most restaurants and street food vendors.