Couscous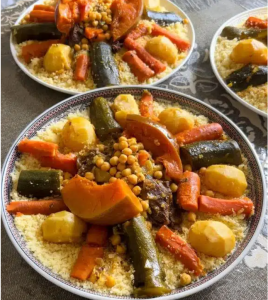 Couscous is a highly regarded element within the realm of traditional Libyan gastronomy. Semolina is used as a primary ingredient in the preparation of this dish, rendering it well favored across the North African region. Despite being often pronounced as "couscous" in English, it is worth noting that in Libya, the pronunciation includes an extra "e". There are two main types of couscous that are commonly recognized:
The primary category mostly consists of onions, a spicy condiment, chickpeas, and a substantial quantity of meat, with a limited inclusion of vegetables. The second kind, known as couscous belkhodra, has the aforementioned components along with the inclusion of vegetables. Surprisingly, Libyan couscous was not listed in the World Intangible Cultural Heritage List in January 2021, unlike couscous varieties from Morocco, Tunisia, Algeria, and Mauritania. A symposium was organized in the southern region of Ghadames, Libya, with the purpose of advocating for the incorporation of Libyan couscous.
Asida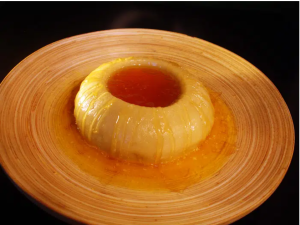 In the country of Libya, asida is a widely favored confectionery item that is often crafted at social gatherings, namely for events such as baby showers or festive familial reunions. Asida is comprised of fundamental constituents. The dough texture is achieved by combining wheat flour, butter, and olive oil, resulting in a dense and viscous consistency. Subsequently, a layer of honey or date syrup is delicately poured over the surface.
Bazeen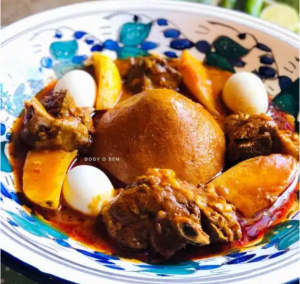 Bazeen is a widely consumed culinary dish that is often produced across the nation of Libya. Nevertheless, the preparation of Bazeen exhibits some variations throughout various cities in Libya.
In Libya, bazeen is often made by combining pure barley flour to form a dense and viscous dough consistency. This dough is then shaped into a circular form in the center of the meal and accompanied by a robust tomato sauce infused with spicy flavors. Additionally, boiled potatoes, boiled eggs, pungent pepper, and a generous amount of meat are added to the dish.
In some regions of Libya, notably in the western areas, bazeen is occasionally prepared without beef and instead substituted with fish. Furthermore, several geographical areas choose to use crushed beans or a spicy chili sauce in their preparation.