Mee goreng mamak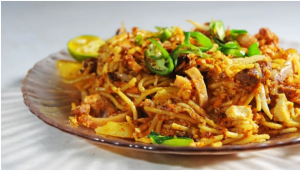 This Indian Muslim cuisine has everything you could ever want in it. Noodles in a yellow color. Choice of beef or chicken Shrimp. Soy sauce, vegetables and eggs. A pinch of chili powder added for a kick that is impossible to resist.
Apam balik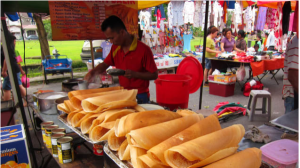 Apam balik is a kind of food that resembles pancakes and is combined with the compact packaging of an omelet. It is loaded with more than a suitable quantity of sugar, peanuts, and the odd sprinkling of corn, and it is a meal that is continuously being reimagined.
Nasi kerabu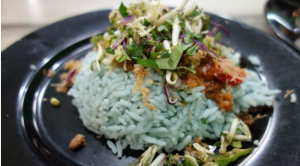 The vibrant hue of nasi kerabu, a dish that hails from the state of Kelantan on the upper peninsula of Malaysia, is achieved by pulverizing telang blossoms and incorporating the resulting powder into the rice flour. A fermented fish sauce known as budu is used to season the aquamarine dish before it is topped with bean sprouts and fried coconut and then doused with spicy budu. You have to dig into this one with your hands in the traditional Kelantanese manner.