Oshithima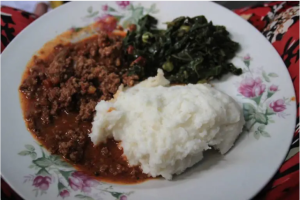 Oshiwambo culture places a strong emphasis on the consumption of oshithima. In the more northern parts of Namibia, this food is considered to be a staple. Pearl millet flour is used to prepare the gluten-free porridge known as Mahangu Pap. People in certain regions favor having it blended with Mahangu flour as well as millie or maize flour. In order to make traditional pap, you must first bring a large pot of water to a boil. After the mixture has reached a boil, add a thick paste made of flour and water to the pot and stir constantly until a thick consistency is achieved. In conclusion, continue adding flour in increments until the dough reaches the desired consistency. This dish can be accompanied by a selection of stews, such as beef stew, spinach and vegetable stew, or even Kapana or Mopane worms stew.
Oodhingu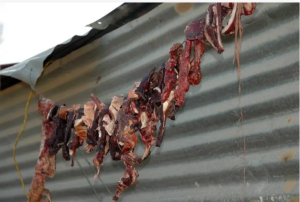 Oodhingu is a traditional dish in Namibia that was originally developed as a means of preserving meat at an age when refrigeration was not available in the country. Oodhingu may be prepared using a variety of fresh meats, which are then sliced into long strips and dried in the sun until they are translucent. This was the most efficient method for storing meat for extended periods of time before the invention of refrigeration. Goat, beef, or game such as kudu and springbok are among the most common types of dried meats consumed in Namibia. Oodhingu is traditionally prepared by cooking it over an open fire while seasoning it with salt. In addition to being consumed as dried meat, it is also often used as an ingredient in stews.
Omagungu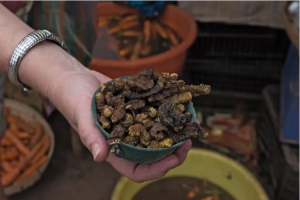 Mopane worms are a peculiar delicacy that is common in the countries that are located in southern Africa; if you ever find yourself in Namibia, you should give them a try. The term "mopane worms" comes from the fact that the caterpillars that feed on mopane trees are located and harvested during the wet seasons. They are a unique and delicious treat that are crisp. In order to prepare this mouthwatering delicacy, you must first soften the mopane worms by boiling them in boiling water. After being rehydrated, the worms are usually crisped up in a skillet with tomatoes, onions, and chilies until they reach the desired level of doneness. Omagungu is a dish that goes well with pap but may also be eaten on its own. Some individuals, nevertheless, love mopane worms in a stew. The majority of the time, you can find them at outdoor markets, or you may purchase them as street food and have it served the traditional fashion, on a piece of newspaper.