Wurst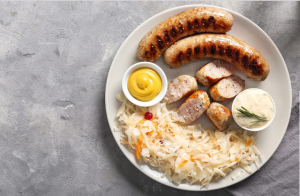 Let's begin with the most apparent choice, which is Wurst. It is believed that there are 1,500 different types of sausages available in Germany. These may be cooked in a wide variety of ways, and they can contain a wide variety of ingredients as well as their own special spice mixes. These may be purchased from street vendors in almost every city and town throughout the nation. Bratwurst, which may be pan-fried or roasted and can be produced from veal, beef, or pig, is considered to be one of the most popular variations (Richter & Bokelmann, 2016). Other varieties include the smoked and then boiled Wiener (Viennese), as well as the blood and black sausages known respectively as Blutwurst and Schwarzwurst.
Rouladen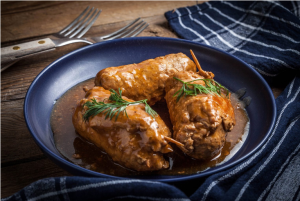 Bacon, onions, mustard, and pickles are the components that make up this traditional German delicacy, which is then encased in thinly sliced beef or veal and baked. In the Upper Silesia area of Poland, rouladen is also regarded to be a component of the country's traditional cuisine. Around these parts, they call it rolada lska. It is also well-known in the Czech Republic, where locals refer to it as "panlsk ptáek" (Richter & Bokelmann, 2016). Although the combination differs from place to place, beef has grown in popularity throughout the course of the previous century. Since this is the less expensive cut of beef, it is often topside or silverside that is used. This hearty German meal may be seen at festivals all around the nation as well as on the dinner tables of family homes. The traditional accompaniments include mashed potatoes, dumplings, braised red cabbage, and red wine gravy.
Käsespätzle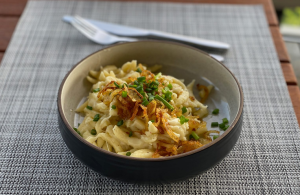 Spatzle, which may be thought of as the German equivalent of spaghetti, is particularly well-liked in the southern region of the nation. Soft egg noodles prepared from wheat flour and eggs, Kasespaetzle are often served with cheese and roasted onions as toppings (Richter & Bokelmann, 2016). Even though the dish's place of birth is unknown and variants of it may be found in adjacent countries, spaetzle is traditionally considered to be a Swabian delicacy. There, the standard guideline for cooking is to make use of one egg in addition to the total number of visitors.