Umncushu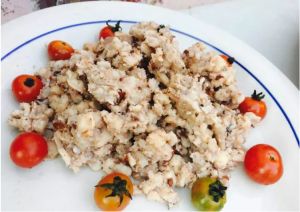 Umncushu is a well-known dish in Swaziland. The samp, which consists of dehulled maize kernels that have been pounded till shattered, is the primary component. Sugar or jugo beans are the beans that are used most often, however any other kind of dried bean may be utilized instead.
After being cooked until soft, the samp and the beans are combined and mashed before being combined with crushed peanuts. Umncushu resembles extremely chunky mashed potatoes with pieces of corn and beans mixed throughout, and this is a good way to think about it. Additional flavor may be achieved by using a variety of vegetables, herbs, and spices.
The component that is the most delicious, known as skhokho, is the crusty bottom that is attached to the pot. You may eat umncushu on its own, or you can pair it with a sauce or a meat stew on the side.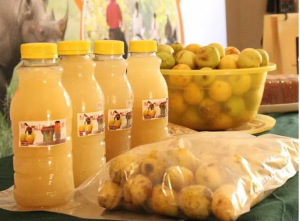 Because this libation is enjoyed by so many people, it gets its own celebration every year. It is a very strong alcoholic beverage that is prepared by fermenting the juice and pulp of marula fruits, which are both exceedingly bitter. After peeling ripe marula fruit, water and the fruit pulp are combined, and the mixture is then allowed to ferment at room temperature for approximately three days.
Sugar is often used in the recipe in order to hasten the fermentation process. After the seeds and other contaminants have been removed from the liquid using a strainer, it is now ready to be served. Because it is so simple to produce and because a wide variety of fruits may be utilized, it has become an important source of revenue for many gogos living in rural areas.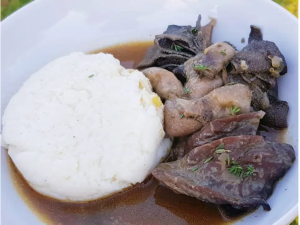 Kwangekhatsi is the edible stomach lining of farm animals with beef being the most common variety. The word kwangekhatsi comes from the Swati language and means "insides." There are four unique kinds of beef tripe, one derived from each of the four stomach chambers that are found in a cow.
After being boiled with the digestive tract for a number of hours, the various types of tripe are then cooked until they are very tender. There is room for a variety of herbs and vegetables to be added.