Ndolé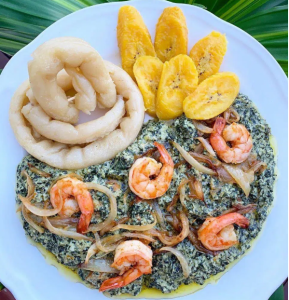 Ndolé is the food that is consumed the most often in Cameroon. It is present in the vast majority of celebrations as well as banquets. When asked what aspect of their trip to Cameroon they enjoyed the best, travelers often point to this meal as the highlight.
The Duala people, who live in one of Cameroon's coastal districts, are responsible for creating the meal known as ndolé. It is a stew cooked with peanuts, crayfish, meat, and other spices. Ndolé leaves, which are also known as bitter leaves, are used in its preparation.
Fufu and Eru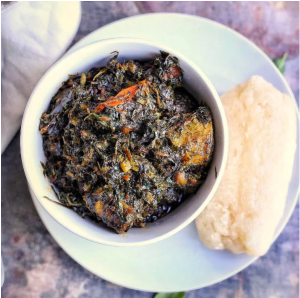 This is one of the most well-liked meals in all of Cameroon, second only to ndolé. You may find a Mami Eru at almost every market. This is a mother who sells fufu and eru and is referred to as a mami, which is a pidgin term for mama or mother. The northwest and southwest parts of Cameroon, as well as bordering Nigeria, are famous for their traditional meal consisting of fufu and eru.
The stew is made of eru (Gnetum africanum) that has been cooked with spinach ),   dried crayfish, palm oil, cow hide , or meat. It is often served with water fufu, which is a sour, cooked, and crushed starchy cassava, or garri, which is also pounded
Okok