Algeria is a North African country with a rich culinary tradition that reflects its diverse cultural heritage. Algerian cuisine is a blend of Berber, Arab, Turkish, and French influences, which have all contributed to the country's unique dishes. In this answer, we will list and explain some of Algeria's most famous foods.
Couscous
Couscous is a staple food in Algeria and is often considered the national dish. It is made from semolina wheat and served with a variety of vegetables and meats such as lamb, chicken, or beef. The dish is often seasoned with spices like cumin, cinnamon, and turmeric. Couscous is typically served on Fridays, the Muslim holy day, and during special occasions. (Roufs & Roufs, 2014).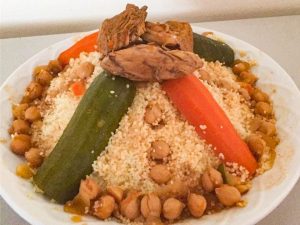 https://www.allrecipes.com/recipe/256729/algerian-couscous/
Tajine
Tajine is a slow-cooked stew that is made in a clay pot of the same name. The stew is made with a variety of vegetables, meat, and spices, such as cumin, saffron, and ginger. Tajine is a hearty and flavorful dish that is often served with bread or couscous. (Ghorab, 2016)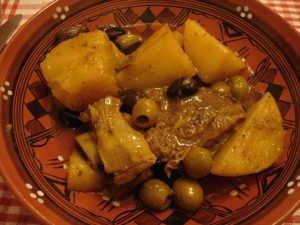 https://food52.com/recipes/12651-algerian-beef-potato-olive-tagine
Shakshuka
Shakshuka is a popular breakfast dish in Algeria that is made with eggs cooked in a tomato-based sauce. The sauce is typically seasoned with garlic, cumin, and chili powder, giving it a spicy kick. The dish is often served with bread or pita for dipping. (Amaechi, 2018).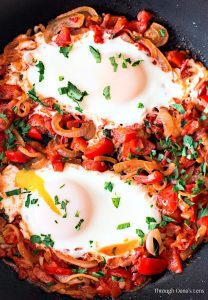 Makroud
Makroud is a sweet pastry that is made with semolina flour and dates. The dough is shaped into small cylinders and stuffed with a sweet date filling. The pastries are then fried and drizzled with honey syrup. Makroud is a popular dessert in Algeria and is often served during Ramadan. (Lacoste, 2017).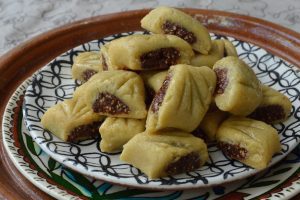 http://cookiecompanion.com/makrout-cookie-from-algeria/?lang=en
Merguez
Merguez is a spicy sausage that is popular in Algeria and other North African countries. The sausage is made with lamb or beef and is flavored with a blend of spices such as cumin, paprika, and chili powder. Merguez is often grilled and served with bread and salad. (El-Wakil, 2019).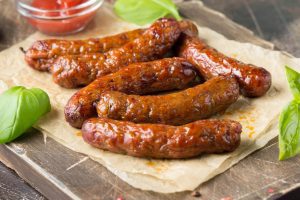 In conclusion, Algeria's cuisine is a unique blend of various cultural influences, resulting in a diverse array of flavorful dishes. From the hearty tajine and couscous to the sweet makroud, Algeria's cuisine is sure to satisfy any palate.