In Ghana, each ethnic group, each with their own culture, expresses themselves distinctively through their clothing. Most traditional ethnic garments in Ghana are made from Kente, Kete, or Gonja cloth (Garments, 2022). Weaving is a popular clothing craft in Ghana. Locals used wooden looms to make handmade textiles. They created fabric out of cotton and raffia fibers. Kente, who is from the Ashanti region, is well-known not just in Ghana but also in other Western African countries. Kete is from Ewe, and Gonja is from Ghana's northern region. These materials are commonly used to make Ghanaian national attire. Kete is related to Kente. It is also well-known for its vibrant colors and symmetrical pattern.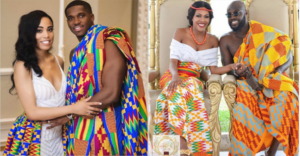 Kente is a cloth that can be worn by both men and women. However, men and women wear it differently. It's worn by men like an ancient Greek toga, across one shoulder and around the torso. Women wear a two-piece kente, one of which creates a wrap-around skirt and the other which serves as a shawl. To complement the look, a plain-colored shirt is used. It is also a traditional Ghanaian ethnic wedding costume (Garments, 2022). The Anlo, a large ethnic group in Ghana's Volta area, also manufacture kete, a handwoven cloth similar to Kente. Kete is also distinguished for its vibrant colors and symmetrical layout.
The gonja, or Ghanian smock, has a traditional ethnic root in Ghana, and many men in rural and semi-rural areas wear it regularly. Natural dyes are typically used to color it. Cotton fabrics are used to make it. Smocks are patterned and thick. This fabric originated in Northern Ghana (Garments, 2022). Cotton is selected, dyed, and gently dried. This fabric has a black/blue stripe pattern with white intertwining strips. This ancient Ghanaian African attire is similar to a shirt and is commonly worn by men.