Ghana maintains a national registration for tangible heritage as well as an inventory of cultural property that is protected. Sculptures, pots, jewelry, stools, weapons, musical instruments, ceremonial dolls, fabrics, leather works, clothing, and masks, are examples of Ghanaian cultural heritage.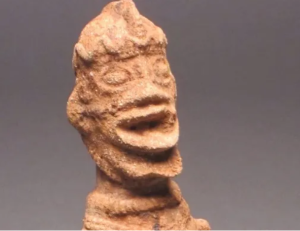 The stools are more than just everyday objects; they become reservoirs for their proprietors' souls after demise. In addition, it become objects of family worship ("Ghana Museums Report", 2022). Carving is also used to make conventional drums, dolls, office staves, and gaming boards. Metal molding is also essential, and gold weights and ceremonial swords are made using bronze and iron casting processes.
Objects at the Ghana Museum's archeological area is a mix of ancient and recent objects. Stools, Chief's attire, native Ghanaian musical instruments, pottery, beads, gold weights, and traditional textiles are among those on permanent display in the ethnographic gallery ("Ghana Museums Report", 2022).