Nigeria is endowed with numerous cultural heritages that are sourced from the diverse ethnic groups in the country. Various cultural assets and artifacts are normally found in the country's big cities and state capitals, like the National Arts Theatre, the elementary center for art performance, and the Nigerian National Museum in Lagos. The national museum has notably various arts, including carvings, ethnographic and archaeological exhibits, and pieces of statuary.
Nigerian museums have played significant roles in collecting, preserving, and promoting the country's rich heritage to the rest of the world. Some of the artifacts preserved in the national museum include the Anyanwu, which is a sculpture made of bronze depicting a female deity that is shown to rise up from the ground. Other sculptures include the Ekoi stone sculpture, the dakakari stone sculpture, and the car that General Murtala Mohammed was assassinated, which symbolizes the end of the country's civil war era.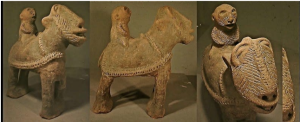 The Nigerian national museum has approximately 47,000 artifacts made from different materials that belong to different cultures of the country. The artifacts or objects are made from various materials such as terracotta, ivory, metal, and wood (Ezenagu, 2020). These artifacts include drums, wooden figures, masks, Dane guns, and textiles. The artifacts found in the museum date to different times in the country's history. There are some artifacts that have been looted by European colonies during the colonial period, and Alex Marshall reports to the New York Times about Benin bronzes that German has started to return to the country. The artifacts being returned to the country, as reported by Marshall, includes a king's head (Oba) that dates back to the 18th century and an intricate depiction of a 16th-century plaque that took place as Nigeria's and Germany's cultural ministers signed an agreement of ownership of 1,100 Benin Bronzes currently located in Germany's museums.