Mauritania, located in West Africa, is known for its vast desert landscapes, ancient Islamic architecture, and unique cultural traditions. The country has a number of tourist attraction sites, including historical landmarks, cultural events, and natural wonders
Chinguetti
Chinguetti is a small town located in the Sahara Desert, and it is known for its ancient Islamic architecture. The town has several historic mosques, libraries, and houses that are made of stone and date back to the 13th century. Chinguetti is also a UNESCO World Heritage Site, and it attracts tourists who are interested in learning about the history of Islam in West Africa (UNESCO, 1996).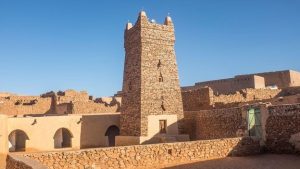 https://www.bbc.com/travel/article/20200709-chinguetti-mauritanias-ancient-saharan-city
Banc d'Arguin National Park
Banc d'Arguin is a national park that is located on the coast of Mauritania. The park covers an area of approximately 12,000 square kilometers and it is home to a diverse range of wildlife, including dolphins, manatees, flamingos, and various species of migratory birds. Visitors to the park can enjoy birdwatching, fishing, and other outdoor activities (UNESCO, 1989).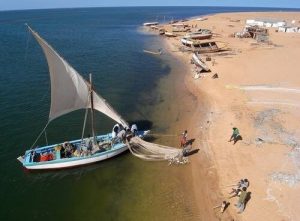 https://whc.unesco.org/fr/documents/157901
Terjit Oasis
Terjit Oasis is a natural oasis that is located in the Adrar Region of Mauritania. The oasis is surrounded by towering sand dunes and it has a series of freshwater pools that are fed by underground springs. Visitors to Terjit Oasis can swim in the pools, relax in the shade of palm trees, and enjoy the beautiful scenery (Lonely Planet, 2021).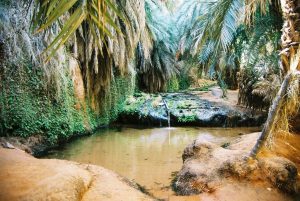 https://www.flickr.com/photos/joaoleitao/8002627234
Port de Peche de Nouadhibou
Port de Peche de Nouadhibou is a fishing port that is located in the city of Nouadhibou. The port is known for its colorful fishing boats and the bustling activity of the local fishermen. Visitors to the port can watch the fishermen at work, buy fresh seafood, and sample local dishes (Lonely Planet, 2021).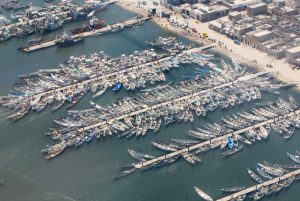 https://africtelegraph.com/port-de-nouadhibou-boostera-t-leconomie-mauritanienne/
Nouakchott
Nouakchott is the capital city of Mauritania, and it is known for its colorful markets, museums, and cultural events. The city has several museums that showcase the history and culture of Mauritania, including the National Museum of Mauritania and the Museum of Traditional Arts and Crafts. Visitors to Nouakchott can also enjoy the city's vibrant music scene, which features traditional Mauritanian music and dance (Lonely Planet, 2021).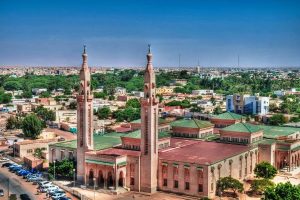 https://kawa-news.com/en/5-things-to-do-in-nouakchott-the-capital-of-mauritania/
In conclusion, Mauritania has a variety of tourist attractions that cater to different interests. From historic landmarks to natural wonders, visitors to Mauritania can experience the rich culture and natural beauty of this unique country.