Celebrations in Ghana are usually extravagant, whether they are to celebrate religion, ancestors, rites of passage, or harvest. Many of these traditions are based on long-held habits, and each region has its own distinct culture (Akyeampong, 2018). The Fancy Dress Event is a masquerade festival conducted annually on January 1st by the people of Winneba in Ghana's Central Region. It's a colorful celebration with brass band music. The chiefs and peoples of Anloga in Ghana's Volta region commemorate the Hogbetsotso Festival. Every year on the first Saturday of November, the festival is held.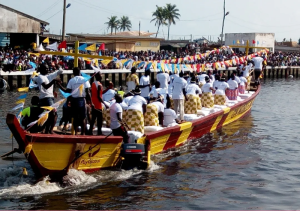 On the first Tuesday of July, the Bakatue festival heralds the opening of the new fishing season. It is held at Elmina and is marked with a magnificent procession that includes a regatta, offerings, and the presence of the chiefs, followed by revelry (Akyeampong, 2018). "Aboakyir" literally translates to "game hunting." The chiefs and people of Winneba commemorate this popular festival on the first Sunday of May. The festival begins with a competitive hunt in a local
game reserve between two traditional warrior groups.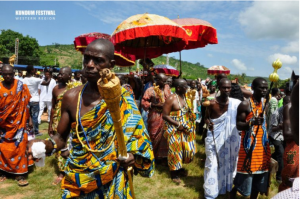 Each warrior attempts to capture an antelope. It is an exciting event that will put the two rival groups' strength, bravery, determination, and intuition to the test. The Ahanta or Nzema people of Ghana's Western area celebrate the Kundum festival. Kundum is a harvest celebration as well as a religious feast. It is celebrated to praise God for the abundance of food as the harvest season begins in the area.