Nsima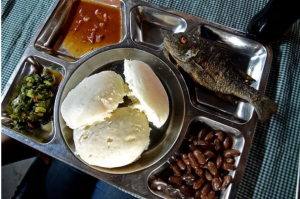 A kind of porridge known as Nsima is made using ground white maize flour as the primary ingredient. When the flour is added to water or milk that is already boiling, the mixture continues to be heated until it reaches the consistency of a hard dough. After some time has passed, the mixture is shaped into patties and then served.
Malawians rely heavily on the staple cuisine known as Nsima, which is often accompanied by two condiments known as relishes. The first one consists of a protein source such as meat, fish, groundnuts (peanuts), chicken, or beans, while the other dish is a side dish that contains vegetables such as rape leaves, pumpkin leaves, amaranth leaves, mustard leaves, or cabbage.
Nsima is often eaten for both lunch and supper, and its price point is reasonable enough that it is within reach of the vast majority of people in Malawi. Nsima consumption is also considered to be somewhat of a tradition among families and is seen as an occasion to foster closer ties between members of the same household.
Thobwa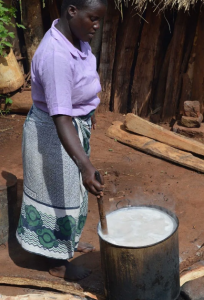 White maize, millet, or sorghum are the three grains that are used to make the fermented beverage known as thoubwa, which is also referred to as sweet beer. The texture of the beverage is gritty, and it has a thick consistency. Even though Thobwa is often a non-alcoholic or very mildly alcoholic beverage, if it is allowed to sit undisturbed for five to six days, it has a tendency to ferment into mowa or beer. Thobwa may be purchased at any time of the year, although the warmest months of the Malawian year are when it is drank the most (September-November). It is possible to have Thobwa served in recycled plastic bottles in the towns and cities. Clay pots are the typical vessels used for consumption in rural areas.
Thobwa is a traditional festive drink that is also often offered to guests as a welcome beverage during weddings. Additionally, it is often used in the form of an energy drink.
Kachumbari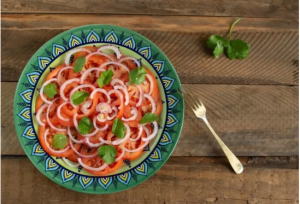 A meal known as kachumbari is a kind of salad that is put together with fresh tomatoes, onions, and chili peppers. It enjoys a high level of popularity across a large number of nations located in the region of the African Great Lakes, and various regional adaptations of it can be discovered in countries such as Tanzania, Rwanda, Uganda, and Burundi.
Kachumbari is often consumed as part of a meal in the majority of African nations; but, in Malawi, people frequently have it on its own. On the other hand, it may also be served as a side dish with other types of main courses.