Spicy green papaya salad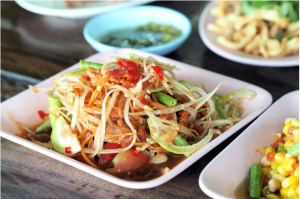 Isaan, which is located in the northeastern part of Thailand, is the origin of the dish known as som tum, which is a spicy green papaya salad (Roitner-Schobesberger et al., 2008). A sweet, sour, and spicy flavor is released when garlic, chili peppers, green beans, cherry tomatoes, and shredded raw papaya are mashed together in a mortar and pestle. This results in a flavor that is rather unique. Peanuts, dried shrimp, or salted crab may be added into the mix according to regional differences. This meal has the potential to divide people due to the fact that although some people can't get enough of its flavor, others just can't take the heat (Roitner-Schobesberger et al., 2008).
Tom yum goong
Lemongrass, shallots, chili, galangal, lime juice, kaffir, lime leaves, and fish sauce are the primary ingredients of om yum goong, which is a robust and invigorating combination (Roitner-Schobesberger et al., 2008). This hot and sour soup is perfect when combined with fluffy white rice that has been boiled in a pot. It has delicious river shrimps and straw mushrooms.
Tom kha kai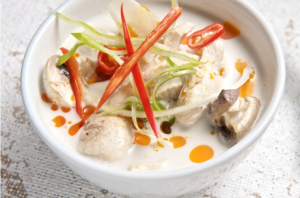 Tom kha kai is a milder, tamer version of tom yum that incorporates scorching chillies, thinly sliced young galangal, smashed shallots, stalks of lemongrass, and delicate slices of chicken. Tom yum is known for its intense heat (Roitner-Schobesberger et al., 2008). The recipe also has coconut milk, which helps to tone down the spiciness of the dish, and then it is finished off with fresh lime leaves. You may have steamed rice with your bowl of creamy tom kha kai, just as you can with the vast majority of soups prepared in the Thai way.